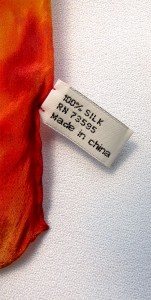 ***Please see the Silk Scarf
PAGE
to see the complete collection of scarves. This will be updated periodically as they are sold.
The following collection are one-of-a-kind silk scarves, hand-dyed using Japanese Arashi and Kanoko Shibori techniques. Most are 100% flat crepe silk, medium weight, and more shiny than Habotai silk. It drapes well and the colors are more rich and intense—this is very difficult to show well in photography! The photos reflect the colors as accurately as possible, but with differences in computer displays and browsers there will be some variation. A few of the smaller ones are Habotai silk, some with heat-set designs. More details are in their descriptions. All scarves have hand-stitched rolled edges.
The large scarves measures 11" x 60." In addition to being looped or tied around the neck, this is long enough to use as a head-wrap, headband, belt, or a big floppy bow for a ponytail. The smaller ones are 8″ x 54″, great for necks and children. All large scarves are $42. The smaller ones are priced in their descriptions.
Silk is very strong, only really vulnerable when wet, so these scarves will last for many years. They have been thoroughly rinsed to remove all excess dye but, as with all hand dyed products, there may at first be some minor bleeding. If this occurs, it will not cause the scarf to fade—the colors are quite permanent.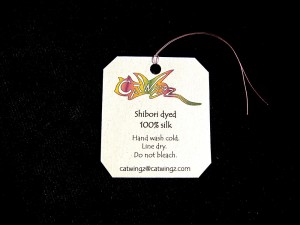 To wash by hand use cool or lukewarm water with a little liquid detergent or hand soap, even shampoo works fine. Soak a little, swish, then rinse a few times in clear water, and air dry. If you wish to iron one, choose the lowest steam heat setting.
They come with a tag and, if requested, tube-style gift packaging. A few are currently on Craigslist and I am happy to do small showings in homes are at events. Since this means my inventory is very changeable I am not putting a shopping cart on the website at this time. Please use the contact form and include the 'L-#' or 'S-#' if there is a specific scarf you are interested in.
I will eventually be putting some on Etsy and/or Ebay and I will be prepared to ship scarves at that time.